Cantilever Shade Structures
Looking for a shade structure without a lot of columns? Cantilever shades have offset columns, leaving one side of the shade without columns. This style of commercial shade is ideal for walkways, bus stop seating, bleachers, drive-thrus, car parking, and more.
Top Reasons to Buy a Cantilever Shade
If these reasons solve your biggest shade pain points, then a cantilever style shade may just be right for your outdoor space.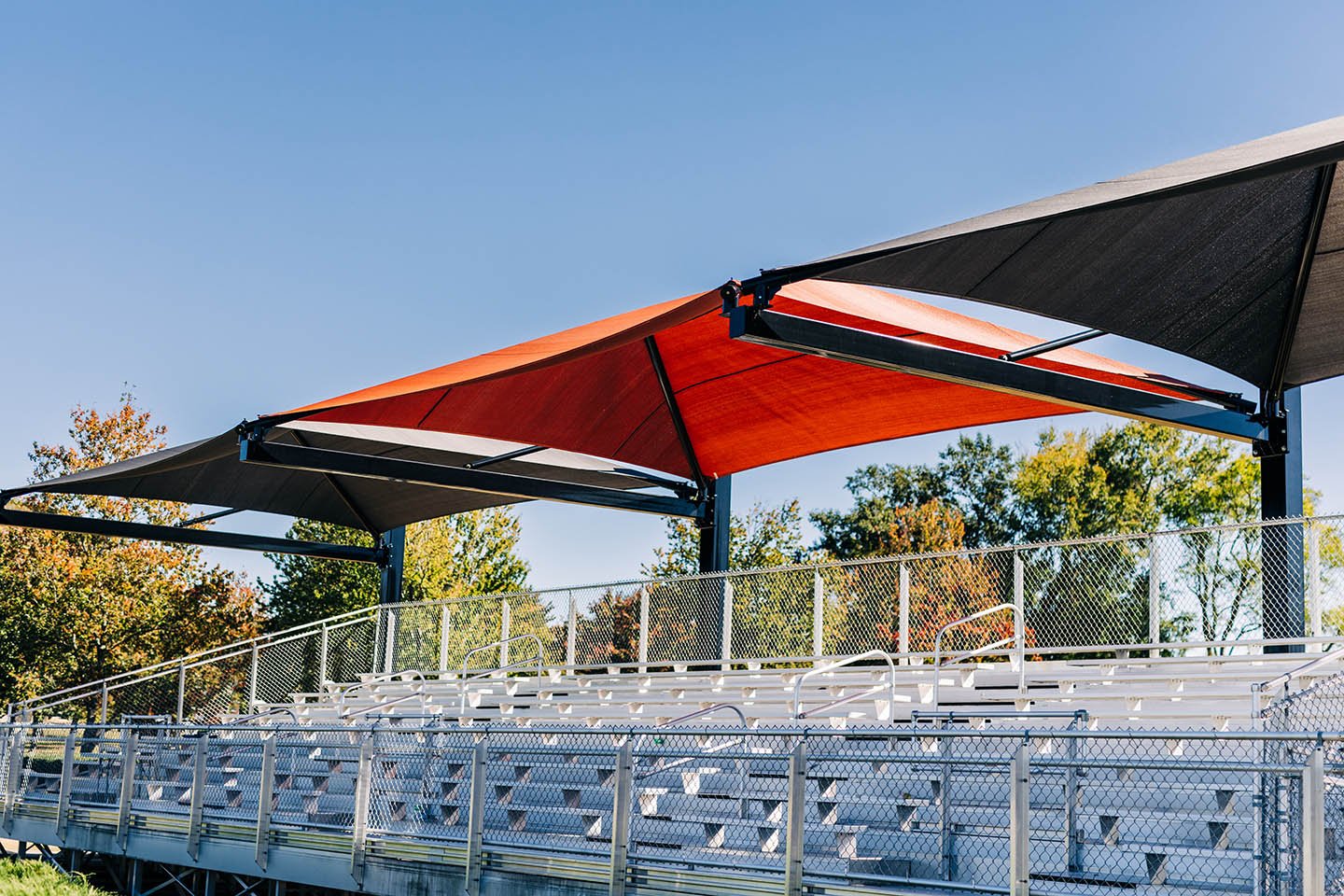 Cantilever Shades Come in Several Styles
Superior Recreational Products specializes in different types of cantilever structures. Here are our most popular:
Standard Cantilever
The Standard Cantilever Shade is ideal for covering areas that require a large amount of open space like walkways, bus stop seating, and bleachers. They are also the most economical way of providing car parking shade.
Cantilever Umbrella
Cantilever Umbrella Shades are ideal for site furnishings as they have an off-center post to prevent column interference. Ideal locations to install these umbrellas include hotel pool areas, cabanas, restaurant patios, and even playgrounds.
Hanging Cantilever
Cover any distance with our Hanging Cantilever Shade. This structure has a max width of 18' but can be configured with multiple bays to cover more space. A great solution for bus stop seating and walkways.
These shade structures come with surface or in-ground mounting options and can be ordered in an 8', 10', or 12' height. Choose from the many fabric colors to customize your space and complete your look.
Cantilever Shades are Highly Versatile
Cantilever shade structures make a great fit for many locations. A few benefits of these structures include a clear view, less space needed for mounting, and visual appeal. From walkways, bleachers, car washes, and parking lots, your company can utilize the benefits of cantilever shade options.
Cantilever Shaded Walkways
For shading extended areas like walkways, the Camelback Cantilever is an ideal solution. Providing shade will make guests more comfortable whether they are waiting at a bus stop or walking alongside a building.
Cantilever Shaded Site Furnishings
Consider our Cantilever Umbrellas for outdoor spaces where guests need to be protected from the sun. These structures make a great fit for pool areas, social settings, and outdoor dining at restaurants. We carry umbrellas that range from 8' to 27' offering up to 729 square feet of shade.
Cantilever Shaded Bleachers
Hanging Cantilevers provide a perfect fit over bleachers as it offers a clear view. Keep visitors comfortable and wanting to stay longer while enjoying their time at the ballpark. These cantilevers come in 8', 10', and 12' heights.
Ready to get started?Find Your Nearest Representative
Take the first step by reaching out to one of our representatives.