Athletic Shade Projects
No sports park is complete without shade and site furnishings. Whether they're at a college baseball field or a community's soccer field, grandstands and the gathering areas that surround them are much more comfortable and enjoyable when they've got a sports shade canopy above them. The outdoor bleacher shades, concession stand shades, and dugout shades we offer come in a variety of shapes and sizes for your sports facility's needs. Discover how easy it is to create the perfect environment with everything you need from one trusted company.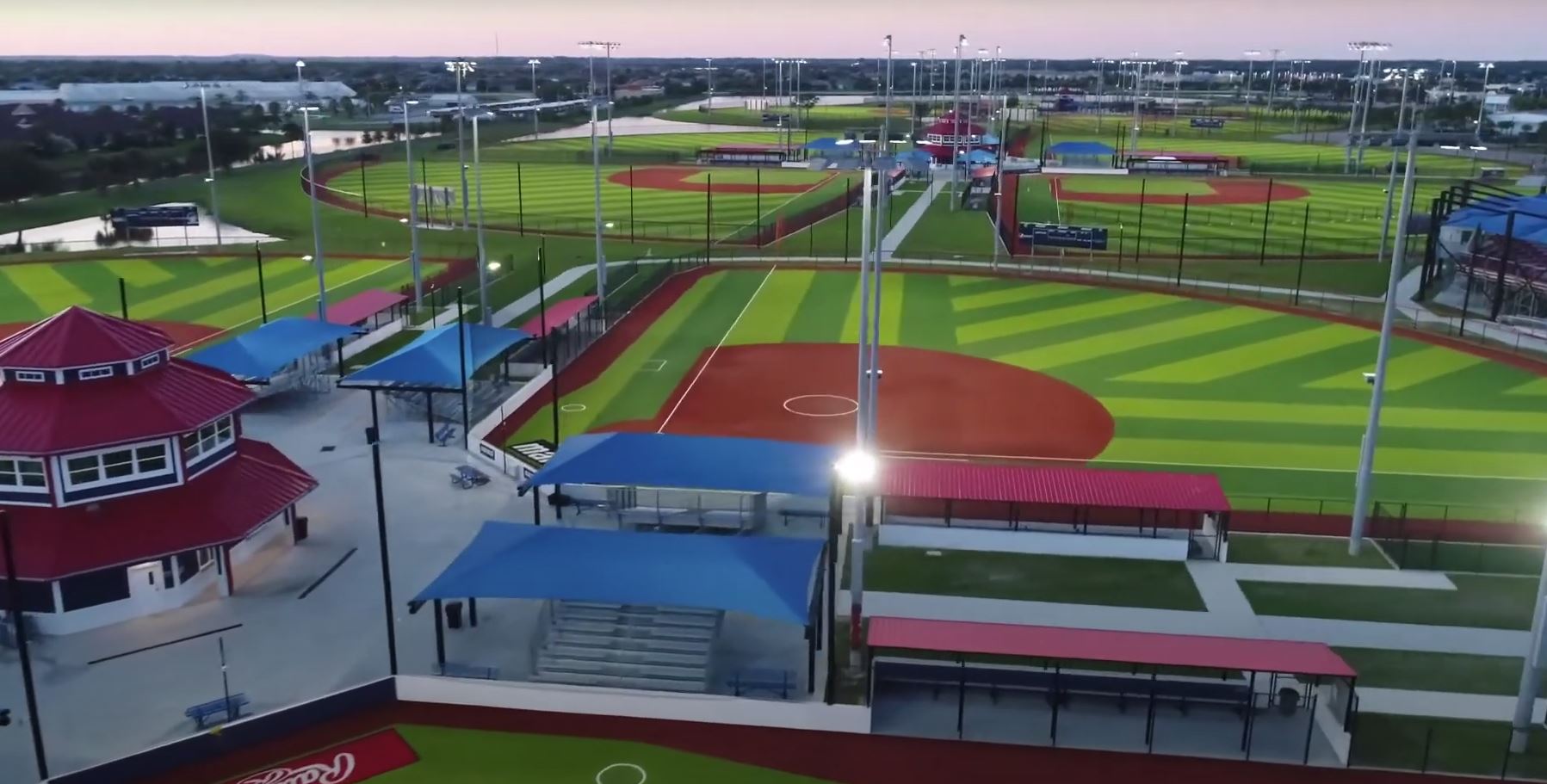 SPORTS PARK SHADE Create a Destination Facility
When it comes to sports park shade, we have you covered. We deliver creative solutions right to your park. It's essential to keep your sports park up and running, so our installers are skilled in working with you to ensure your park isn't closed for installation. Ready to get started designing the next big element to make your park a destination facility?
Areas You Should Consider Shading at Your Sports Park
Your outdoor sports court, sports complex, or recreation area needs some major shade. To make your players, fans, and staff more comfortable, check out these ideas on how to incorporate shade into your next design.
Concession Stand Dining Area Shade
Hot dogs, anyone? Allow park goes to enjoy their sports park favorites in an outdoor dining area. Pair comfortable picnic tables with a large umbrella shade to provide the ultimate comfort.
Bleacher Shade
Our line of

cantilever shade structures

all make ideal options for bleacher shade. Do you have a grandstand? We have a solution for that, too. Opt for a custom Arch Cantilever to really wow your guests and offer stadium features like no other. Your bleacher canopy colors can then be picked to match your home team's colors.
Dugout Shade
Our Rectangle Hip End, Camelback Cantilever, and Dugout Cantilever shades make great dugout shades. With the edition of simple fencing, you have yourself a classic-looking dugout that's half the cost of an all-steel dugout shelter. To round out your dugout, we offer dugout benches and dugout trash receptacles through our Site Amenities line.
Sport Court Shade
Mutil-dome super hip shades

are a great way to cover whole sports courts. Basketball courts, tennis courts, and pickleball courts can all benefit from these super domes.
Score Keeper Shade
Our Cantilever Umbrellas are the most popular choice for shading scorekeepers. For baseball fields, community soccer fields, and other sports fields that don't typically have a scorebox, providing a space with shade is an appreciated touch.
Shade Sails, Sports Shade Canopies, Cantilevers, and Umbrellas
Explore the possibilities of shade canopies for your facility — from our catalog of outdoor shade equipment to a variety of custom outdoor shade structures — to find the right solution. What's more, above you can view examples of sports shades we've designed and installed for our clients. Baseball, softball, golf, tennis courts — you name it, we've shaded it. Are you ready to find the right sports shade structure for your facility? Interested in adding UV protection and style to your bleachers or dugout on your university campus? Let's get started on making your sports facility stand out as being the best in your area.
Completing Your Sports Venue with Bleachers and Site Furnishings
While Superior Shade is a go-to resource for top-quality standard and custom shade structures for university sports fields, bleachers, and college stadiums, we also provide bleachers and site furnishings such as picnic tables, dugout benches, and trash receptacles through our Site Amenities product line. To view our collection of site furnishings, click here.
Need some help getting started?
Your local Superior Shade representative is here to help. They'll work with you from initial consultation to final installation to get your space feeling and looking cool.